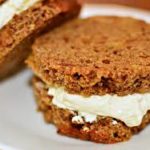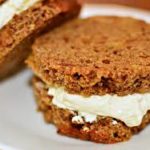 Directions
Mix dry ingredients together in bowl.
In separate bowl, mix wet ingredients.
Grease and flour two small aluminum cans.
Use cans that do not have a seam because they can leach lead.
Add wet ingredients to dry ingredients and stir until just combined.
Divide batter into the two cans, filling them about 3/4 full.
Cover each can with greased aluminum foil and tie with twine.
Place the cans in a deep pan on top of a layer of old jar lids. (I used my crock pot.)
Add boiling water until about half-way up the cans.
Cover the pot and simmer for 1 1/4 hours.
Remove cans and check to see if the bread is done cooking.
Allow to cool in the cans on a wire rack for at least an hour.
Use a knife to loosen the bread and remove from cans.
Ingredients
½ cup brown rice flour
½ cup buckwheat flour
2 tsp Rumford baking powder (make sure it's fresh)
¼ tsp salt
1/2 cups apple butter (no sugar added)
1 egg
¼ cup vegetable oil
1 cup buttermilk