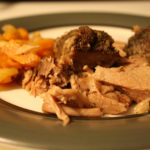 Autumn Pork Roast
By marie Dinner, Lunch, Proteins, Slow Cooker
February 4, 2017
Succulent and slightly sweet pork dish slowly cooked in a crock pot (slow cooker).
Prep: 10 mins
Cook: 8 hrs
Yields: 2 servings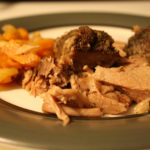 Directions
Slice apple, sweet potatoes and onions into thin slices.
Layer on bottom of crockpot®.
Place loin of pork on top.
Sprinkle with salt and pepper.
Cook on low 8-10 hours.
Ingredients
1/2 lb loin of pork
1 apple
2 sweet potatoes
2 onions
Nutrition Facts
Total Carbohydrates
67.5 mg